Description
UK grown, freshly cut, Grade A Nordmann Fir Christmas Trees
The Christmas trees we sell at Claydon are grown in the Highlands of Scotland at Alexandra Verney's family home, Novar Estate. The cooler climate and natural south facing topography produces some of the finest Grade A, non-drop, Nordmann Firs in the UK.
Prices start from just £25.00, and with sizes available from 2.5ft to 8ft, you are sure to find your perfect tree.
If you are looking for a Christmas tree that is over 8ft, then please contact us with the size you require.
On purchasing your tree, we will cut 2-3cm off the trunk for you to help it take up more water when you get it home, we will net it for you, and will be glad to help you get your tree safely to your car.
We are so confident that you will love our freshly cut Christmas trees that, should you return yours to us at Claydon Courtyard before the 19th December, whatever the reason, we will be happy to give you a full refund or exchange.
Alongside our freshly cut Nordmann Fir Christmas trees, we also have a limited number of British grown potted Nordmann Fir trees and reliable, value for money, water holding Christmas tree stands available to buy.
Looking after your freshly cut Christmas Tree
Even though Nordmann Firs are very good at holding onto their needles, they still need some TLC throughout the festive season. Here's a few tips to keep your Christmas tree looking its best:
Regularly give your Christmas tree plenty of fresh water.
Check the water level in your Christmas tree stand daily and make sure it doesn't dry out.
Keep your Christmas tree away from drafts and/or heat sources such as radiators, stoves or fires that are regularly used.
If you delay standing your Christmas tree up in water when you get home, cut approximately 2-3cm off the trunk just before you do so, this will help it to take up water.
Christmas Tree Stands
If you need a reliable, value for money, water holding stand for your fresh Christmas tree, then we have two sizes available. Both stands utilise a screw bolt system for ease of use and quick set up.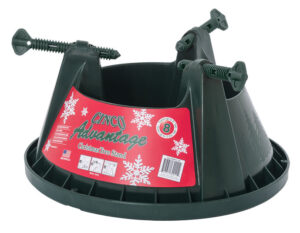 Cinco 8 Advantage
The Cinco 8 Advantage incorporates a steel pin in the bolt for added strength with larger trees.
The Cinco 8 Advantage holds a tree of up to 8 feet high.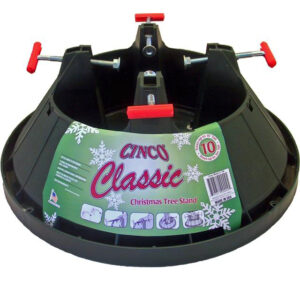 Cinco 10 Classic
The original Cinco water holding stand combines high water capacity with strength and durability.
It has steel spikes to keep the tree in position and a low, wide, easy-fill water reservoir.
The Cinco 10 Classic holds a tree of up to 10 feet high.